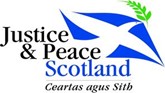 St. Columba's has a very active Justice and Peace Group that meets monthly, directly when possible or virtually.
The group works closely with the SVDP group, and some members also serve on the Archdiocesan Caritas and Justice and Peace Commission.
Here are some of our activities:
Organise fundraising Events and Coffee Mornings
Arrange Talks from a variety of speakers -in the hall and by Zoom
Fundraise mainly through a 100 Club for our affiliate Parish St Peter's Mbare, in Zimbabwe, funding projects to help the parish and community and meeting regularly on line.
Support Fresh Start/Mary's Meals/Food Banks/St Catharine's Mercy Centre/SCIAF/St Patrick's Missionary Society
Refugees-raise awareness and provide help and support
Annual Justice and Peace Mass
St Andrew's Day Ecumenical Prayer Service
Promote activities supporting us as an Eco-Parish-encouraging Environmentally friendly practice
Publish Dove Magazine-promoting awareness of J&P issues and Events
New member are always welcome-even if you cannot commit much time-we would be pleased to hear from you.
To contact the Justice and Peace Group, please email: [email protected]